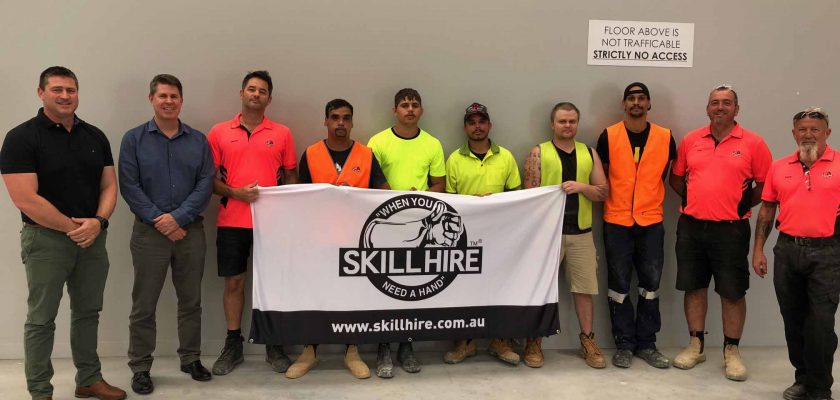 Program preparing young Indigenous for construction jobs
Skill Hire's RTO is currently delivering a 12 week participation program for young Indigenous participants who wish to gain employment and undertake training in the construction industry. The program is funded by the Department of Training and Workforce Development WA (DTWD).
The RTO have structured a program for unemployed Indigenous participants delivering the CPC20112 Certificate II in Construction, which aims to provide participants with an insight into the industry providing students with basic hand and technical skills, focusing on occupational health and safety, planning and organising, reading plans and trade technical units such as: handle construction materials. Alongside the generic units of competency students will gain transferable employability skills such as: communication, reliability and working with others to make them Job Ready' and secure employment opportunities following training.  The course consists of both theory and practical classes, students are currently working together building a maze in the Skill Hire Perth workshop.
Throughout the duration of the course students will meet with potential employers. Group Training and Labour Hire have engaged with six potential employers that have been scheduled to meet with and conduct interviews with participants through the duration of the course. These employers range from building contractors, plumbers, drilling companies and civil works.
Prior to the course commencing Skill Hire's RTO and Labour Hire departments met with local providers to source interested participants, which were selected following initial interviews with Skill Hire. With the support of their providers and Skill Hire we aim to transition the students into further training or employment making for a successful outcome.
Skill Hire Board Member, David Couzner and General Manager, Richard Kiel took time on Tuesday to sit down with the young men to discuss employment goals, challenges and benefits.
'It was extremely encouraging to hear that several of the young men are commuting over an hour and a half by train each day to participate in the course and that they have a real desire to gain employment in the construction sector. These men should be extremely proud of what they are achieving and they are true role models for their families and community' – David Couzner
Testimonials from students:
' I love doing bricklaying and really enjoy it, really can't wait until I get a job bricklaying' – Sammy Taylor
'I am enjoying every part of this course and gaining a lot of experience. The people at Skill Hire are friendly and understanding to cultural heritage' – Tony Vingerhoets
' At first it didn't seem too bad but getting into the course it has given me more experiences with things I didn't know, honestly its great' – Leo Ugle
' I am enjoying the course, I really like it here. I like working with the boys and the trainers are really nice. I like coming here every day' – Basil Thorne
' The course I am doing is very good and I'm really happy that I've been busy doing this to help myself prepare for work. Our trainer, Paul is a good trainer, along with Gav and Wayne. I hope I get a job out of this, thank you' – Reece Daniel Yarran