Indigenous Engagement
Indigenous Solutions
Our commitment to supporting Indigenous individuals and businesses dates back to 1987 and we will continue to do so indefinitely.
Indigenous Engagement for Your Business
Here at Skill Hire, we have a long history of supporting Aboriginal people through education and employment services. Through a number of diversified business streams across Western Australia and South Australia, we are committed to raising the bar  by contributing to Indigenous reconciliation.
At Skill Hire, we believe in integrating Aboriginal participation into our mainstream businesses to drive positive long-term relationships between Aboriginal and other communities. Our delivery of indigenous employment and education services create opportunities for Aboriginal people to become involved in life changing experiences.
We have continued to foster participation rates in excess of Federal and State Government benchmarks with, at times, up to 12% of our labour force being of Aboriginal descent. Our aims are simple, we want to embed cultural change and contribute to closing the unacceptable gap in life expectancy, education and economic opportunities that is experienced by Aboriginal and Torres Strait Islanders.
If you'd like to talk with our team about indigenous engagement and its benefits for your business, contact us below.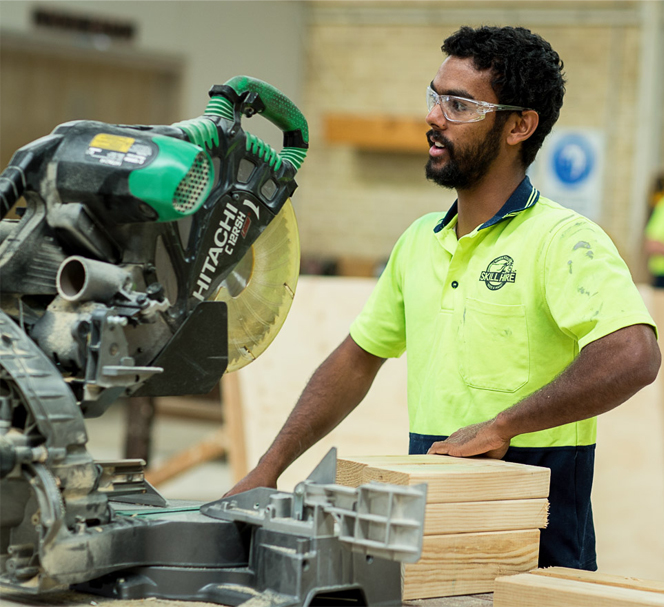 Indigenous Engagement Throughout the Years
2018 - Ongoing
Skill Hire signs into joint venture with Aboriginal Business, Impact Services
2016 - Ongoing
Skill Hire provides Apprentices and recruitment solutions for a number of major construction companies in Western Australia.
2016 - 2018, APY Lands
Skill Hire participates in Remote School Attendance (RSA) project in the APY Lands.
2016 - 2018, APY Lands
Skill Hire engages in Community Development Employment Projects (CDEP)
2015 - Ongoing, Western Australia
Skill Hire works with Wirrpanda Foundation to deliver Vocational Training and Educational Centre (VTEC)
2000 - Ongoing, Western Australia
Aboriginal School Based Traineeship program piloted in Great Southern, WA. Up to 20 local Aboriginal high school aprticipants enrolled per year. Pilot program developed into another ASBT program of which Skill Hire currently participates in.
1997, Albany WA
Skill Hire works to undertake a foreshore redevelopment project with Southern Aboriginal Corporation joint venture.
1996, Ellen Cove Board Walk, WA
Indigenous Employment Program
1988 - 1995, Western Australia
Skill Hire undertakes a number of Indigenous Employment Programs in Albany, Kalgoorlie, Merredin, Gnowragerup, Katanning, Corrigin, Narrogin and Collie.
1988, Mt Barker Western Australia
Skill Hire undertakes an Indigenous Employment Program
1998, Western Australia
Recruitment commences for Fletcher International Abattoir, Narrikup WA where a 7% Aboriginal Employment Rate is achieved. Project nominated by the Commonwealth Government for the Prime Ministers award for Aboriginal Employment, 2000.
1987, Albany WA
Skill Hire engages in Ellen Cove Employment Program
K
Skill Hire really helped me to see that I can accomplish something if I set my mind to it and I completed my course 2 months prior to the completion date. Cheers guys!
M
Skill Hire are helpful and professional. Nicola was attentive to all my needs. Their timesheets systems were a breeze and always update us with messages. Thanks Skill Hire
S
I just wanted to thank Skill Hire's EST Trainers. Nathan is the absolute best trainer I've ever had privilege to meet by a WIDE margin and I appreciate everything done for all of us. I'm ecstatic about the internship opportunity.
G
Not only did Skill Hire respond quickly to our urgent need, your team took the time to understand our organization and our needs. The people sent to help out were outstanding and their ability to rapidly adapt to our workplace eased our burden during what was a very challenging few months.
P
My son has thoroughly enjoyed the Construction Pathways course. He spent the last 18 months being home schooled and not socializing with anyone so to see him eager to get up and leave the house every day still blows my mind. Simon, thank you for your understanding and taking extra care with my son.
J
I wanted to say a big thank you to Skill Hire and the team, especially Wayne for such an amazing experience for our students. All of our students were thoroughly engaged with the course and learned many valuable skills.