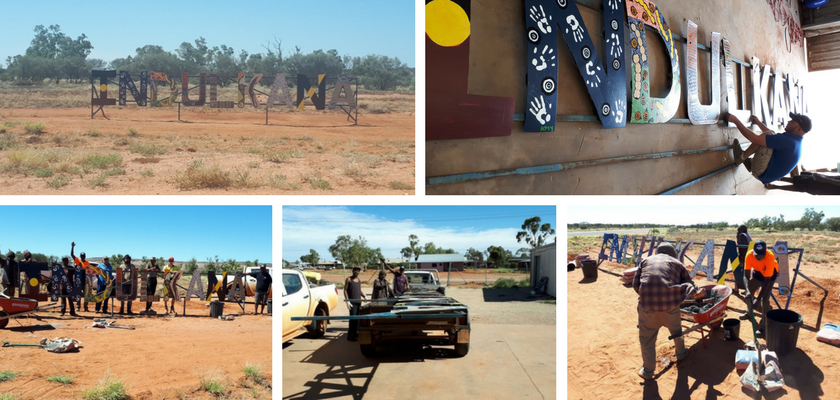 Helping Indulkana Community welcome their visitors
Digging holes in tough dirt was only one of the challenges faced by our CDP participants when they embarked on the project of installing a sign for the Indulkana Community on the APY Lands. Our staff discovered that service providers were struggling to find the entrance to Indulkana and often missed the turn off. Community members were keen for the entrance to be more welcoming with a brighter sign and more beautification.
Under the direct supervision of our activity supervisor participants took part in tool box meetings to ensure they complied with safety procedures when lifting.
The site at the intersection to Indulkana was prepared by measuring and digging the footings for the installment. RASAC had kindly donated their tractor for our staff to level the site.
You can imagine the weight of the sign when it took the entire eight job seekers to lift it from the workshop onto the trailer. Of course they used correct lifting techniques before they travelled down to the intersection. With all eight job seekers still on hand, they lifted the sign off the trailer and placed it flat on the ground next to the footings.
Job seekers spent an afternoon preparing the job for concreting for the following day setting up and organising bags of concrete, water and levelling tools.
After positioning the sign frame into the footings the men mixed two concrete pre mix bags at a time in the wheel barrow using a mattock to mix and did a splendid job of pouring the concrete into footings. After the concrete set the men raked a large area around the sign the following day removing rocks and leveling in preparation for landscaping.
Learning how to measure and mix concrete was not the only skill, but also learning to measure, mark out and level a structure was a highlight of this project. Concrete bags, shovels, crow bar, spirit level, water and wheel barrow were amongst the components required.
Eight participants were happy to participate in this activity, which meant good morale was established between all and the one week project ended with a sense of accomplishment because they were proud they worked together as a team.
Now that the sign is installed we have very happy and proud job seekers who feel more confident in their abilities. Appreciative community members admire this beautiful creation as they enter their community with it being a talking point around the community and with other service providers.