Certificate II in Construction
Pathways
Pathways Programs
CPC20211 Certificate II in Construction Pathways
About Certificate II in Construction
Certificate II in Construction Pathways program (CPC20211) aims to provide participants with an insight into the construction industry and the chance to learn basic hand and technical skills. The course focuses on occupational health and safety, planning and organising, communication, reading plans and exposure to both bricklaying and carpentry trade specific units of competency.
The Certificate II in Construction Pathways course is now offered online. The qualification has core units of competency requirements that are required in most Certificate III qualifications. The elective options provide choice from areas of trade skills as an introduction to a range of occupations.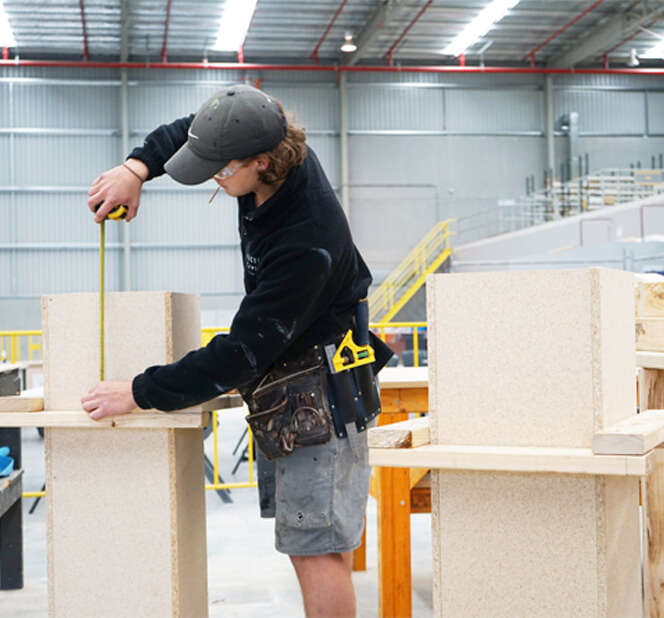 We are currently accepting enrolments for Certificate II in Construction Pathways in Forrestfield and Joondalup. To apply, please click on the relevant link below:
"Please note during the COVID-19 Pandemic, Skill Hire has adjusted training and assessment to abide by the ongoing government requirements for social distancing. As such, many face to face classes have been adjusted to online zoom classes, along with one on one zoom support, phone support and limited face to face practical training sessions. For more information, please speak with a Skill Hire representative."
Course Code
CPC20211

Qualification
Certificate II in Construction Pathways

Nationally Recognised?
Yes

Study Load
Forrestfield Location
4 days a week
Total: 12 weeks
Monday – Thursday
Joondalup Location
3 days a week
Total: 13 weeks
Tuesday – Thursday

Start Date
This program is available in various locations and dates. Please contact us for information.
Want to Know More?
Course Summary & Student Information
Units of Competency
Core Units
| Unit Code | Unit Title |
| --- | --- |
| CPCCCM1012A | Work effectively and sustainably in the construction industry |
| CPCCCM1013A | Plan and organise work |
| CPCCCM1014A | Conduct workplace communication |
| CPCCCM1015A | Carry out measurements and calculations |
| CPCCCM2001A | Read and interpret plans and specifications |
| CPCCOHS2001A | Apply OHS requirements, policies and procedures in the construction industry |
Elective Units
| Unit Code | Unit Title |
| --- | --- |
| CPCCBL2001A | Handle and prepare bricklaying and blocklaying materials |
| CPCCBL2002A | Use bricklaying and blocklaying tools and equipment |
| CPCCCA2002B | Use carpentry tools and equipment |
| CPCCCA2011A | Handle carpentry materials |
| CPCCCM2009A | Carry out basic demolition |
| CPCCWHS1001 | Prepare to work safely in the construction industry (white card) |
K
Skill Hire really helped me to see that I can accomplish something if I set my mind to it and I completed my course 2 months prior to the completion date. Cheers guys!
M
Skill Hire are helpful and professional. Nicola was attentive to all my needs. Their timesheets systems were a breeze and always update us with messages. Thanks Skill Hire
S
I just wanted to thank Skill Hire's EST Trainers. Nathan is the absolute best trainer I've ever had privilege to meet by a WIDE margin and I appreciate everything done for all of us. I'm ecstatic about the internship opportunity.
G
Not only did Skill Hire respond quickly to our urgent need, your team took the time to understand our organization and our needs. The people sent to help out were outstanding and their ability to rapidly adapt to our workplace eased our burden during what was a very challenging few months.
P
My son has thoroughly enjoyed the Construction Pathways course. He spent the last 18 months being home schooled and not socializing with anyone so to see him eager to get up and leave the house every day still blows my mind. Simon, thank you for your understanding and taking extra care with my son.
J
I wanted to say a big thank you to Skill Hire and the team, especially Wayne for such an amazing experience for our students. All of our students were thoroughly engaged with the course and learned many valuable skills.